Attration Category
Xiamen Weather


77F ~ 93F
Sunny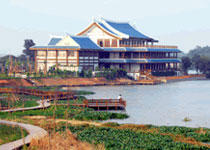 Wuyuanwan area is located in the northeast of Xiamen island, total land area 12.56 km2(in which water area about 2 km2).
It is the only precious land integrating many natural sceneries and resources of water scenery, hot spring, vegetation, wet land and bay.
And it is an important area in a new round development of Xiamen City. In future planning, Wuyuanwan will be developed to be "Xiamen's new living room, new trading port of southern Fujian".
Wetland Park project is located in the south edge of Wuyuanwan, reconstructed and developed from the original spillway, fresh water, rural farm.
A depopulated land in the south freshwater protected areas is created as a paradise for bird feeding and sheltering; meanwhile, by the construction of wooden plank road, Pavilion, Tower, House, dike, bridge, etc., it builds a harmonious coexistence of man and nature.