Attration Category
Foshan Weather


79F ~ 90F
Moderate Rain To Showers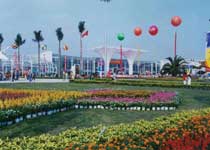 Shunde District of Foshan City is located in the famous South Chencun Huaxiang, planting flowers, two thousand years of history, known as "the South Millennium Huaxiang" and "Chinese flowers first town" in the world. As a new eight wonders of Foshan - Chencun wonders flowers flowers flowers world is the theme of the entire layout to modern agriculture, tourism, tourism-centric ideas. Is a set of flower production, marketing, research, flower shows, flower tourism transactions at the center of one of the major flower and flower cultural theme park.
Tel :0757 -23,832,898
To Flower World, first to see the world';s mostAbstract Art Butterfly large main gate - Happy Butterfly and the main population, scenic plaza. Then, it will enter the colorful, the flowers among the flowers, each flower is a bright spot the company has refined a distinctive style garden seat, both Chinese-style bridges, but also Western-style landscape , blue sky, clear water, windmills, grass and beautiful flowers form a beautiful picture depicting colorful. Into here, that you can marvel at the supermarket flower macro scale, the dizzying array of in floral, you can wander among the colorful, fully appreciate, apart from, the selection of favorite flowers;The show at the coffee cafe also in the flowers in the take a rest.
Traffic
Foshan (Fortune) bus ride bus 27
Tickets
Free
Opening hours: 8:00 ~ 18:00