Attration Category
Tangshan Weather


59F ~ 72F
Light Rain To Overcast
NE at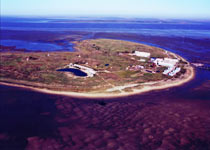 Tuo Island Leting County on the Bohai Bay in the southwest of the Milton erosion over, because the shape of a crescent Aria the name. Tuo by the month, waist Tuo, Tuo West intermittent composed of 7 islands, the land area of 0.43 square kilometers. 6 km around the island are hard bottom sand beach, gentle slope, clean sand depth, is a natural beach and eco-tourism resort.
Tuo on the island 4.8 km from shore, closed well. Island bushes, flowers, emitting a faint fragrance of wild fruits, the natural sounds of nature near a closed environment that few others for the disturbance and destruction, ecological landscape remains in the original stage. Where hundreds of thousands of species of birds habitat, breedingAnd migration. Gull, white stork, black stork and other leisurely, is "boundless expanse of blue water clarity, birds fly Acura, then woodland wildflower meadows, bridges and winding paths with Wooden Court."
Currently, the monthly lump Island is building eco-tourism with a Dutch-style resort. Exotic plants on the island, concentrated essence of Western culture, red roof huts, Dutch windmill, tulips will attract more tourists away.
Accommodation:
Dutch style cottage on the island can be admitted. Cost: between public health is 240 a night, private bathroom one night is 360, 480 standard rooms, deluxe standard room800.
Traffic
Address: Tangshan City, Hebei Laoting southwest of the county, 4.8 km from the mainland, forty minutes by boat.
Transportation: by car, the Beijing area - high-speed Beijing-Shenyang - Tianjin high-speed Tang - Tang Hong Kong Express.