Attration Category
Hefei Weather


27F ~ 48F
Sunny To Cloudy
SE at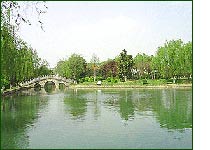 Park is located in Hefei Yaohai (No. 593 Changjiang Road, Hefei), north of Yangtze River Road, 3 km from the city center, 2 km from the Hefei New Railway Station, 14 km west of Hefei-Nanjing Expressway, one between Hefei the middle ring and second ring, the traffic is very convenient.
Park in the July 1, 1994 the official opening. Existing area of 165 acres, 20 acres of water surface. Total 26 000 existing types of trees, lawns 21,800 square meters, mainly camphor forest, fir forest and Feng Yang Lin, lawn 2.18h square meters, is now a better Yaohai municipal green space.
<p> The Park is a recreational based professional amusement park. Divided into the main entrance plaza, land play area, water park, petting zoo bird fleas four parts. The rides have been built are: water world, roller coaster, bumper cars and children';s parks and other recreational items and pet park. Roller coaster is the park a major recreational projects. Pet Park covers an area of ten thousand square meters, is the largest pet market place in Anhui Province.