Attration Category
Chongqing Weather


73F ~ 88F
Cloudy To Light Rain
SW at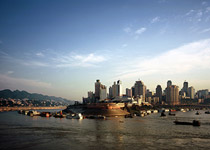 Chaotianmen Square is a newly-built architecture which situates at the confluence of the Yangtze and Jialing Rivers in the Peninsula of Yuzhong District in Chongqing. This square has gradually become a prosperous zone which shows the rapid development of this historic city.
Standing on the Chaotianmen Square, visitors can get an ideal view to the glorious Yangtze River. The Chaotianmen Square was built in the summer of 1998, covering an area of 800,000 square meters, and the ship-shaped square is one of the largest roof squares in China. This gorgeous river which mixes the past and the present culture of Chongqing City just flow in front of your eyes. During the festival period, there is a large-size ship model which is consisted of thousands of flowers in the center of this Chaotianmen Square for visitors to take photos.
Chaotianmen means "receiving the lord from Heaven". Built in the summer of 1998 and coveri ng an area of 800,00 square meters, the ship-shaped square is one of the largest roof squares in China and it serves the purposes of sightseeing, transport and river bank protection.
It is said that the best place to view sightseeing in Chongqing is Chaotianmen, where the muddy, churning waters of Yangtze meets the transparent Jialing River.
Surrounded by mountains and on the confluence of the Yangtze River and the Jialing River, the ships, steamers and tugboats of thi busy port jostle along the whart,. Nearby streets are narrow noisy affairs ful of market stalls, food stalls and commerce.
It is the door of opening to the outside world of Chongqing, and the commercial port with a long history will known both at home and abroad. It is provided with comprehensive trading market.