Guangzhou Weather


50F ~ 73F
Sunny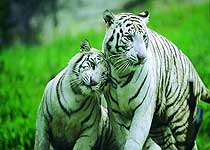 The Chimelong Xiangjiang Safari Park is a national-grade wildlife world which is considered to reach international standards. It is the biggest wild animal theme park in Asia and home to over 460 species and 20,000 rare animals including five pandas, 10 koalas, Honduras anteaters, pygmy hippopotamus, black rhinoceros, white tigers and white lions. You are allowed to drive your cars inside the stock area to get a close up view of the wild beasts and this is the best way to watch animals in China. You can feed the animals and take pictures with them. The once fierce beasts such as tigers, bears and lions now cooperate to present you with an excellent performance.
Admission: CNY180/CNY90
Operating Hours: 09:30-18:00 (ticket hours: 09:15-17:00)
Ticket Packages: Xiangjiang Safari Park + Chimelong Paradise: CNY320/CNY180
Xiangjiang Safari Park + Chimelong International Circus: CNY320/CNY180
Xiangjiang Safari Park + Chimelong Water Park: CNY268/CNY160 (CNY248/CNY150 from Oct. 8 to the day of closure)
Xiangjiang Safari Park + The Crocodile Park: CNY200/CNY120
Notes:
1. Ticke thalf price is for children 1.2-1.5m tall and senior people above 65 years old.
2. One adult can bring one child lower than 1.2m for free.
3. Combined through ticket including Chimelong International Circus should be used in one day. Other ticket packages allow you to finish in two days, only one entry to each park.