Attration Category
Changsha Weather


77F ~ 97F
Cloudy
NW at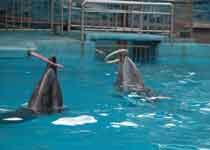 Changsha Zoo is located on the Deya road in Kaifu district of Changsha city. Construction of the zoo began in 1956. In the beginning, mostly birds and primates were the main attractions. Today, this zoo houses more than 200 types of animals, including 15 different species of carnivores, 52 different species of birds, 46 different types of amphibians and reptiles, and 22 different kinds of tropical marine animals. The wild elephant "MaGuo" can perform on the harmonica play gong and drum, and catwalk as well to entertain the audience.
Changsha Zoo has the most diverse collection of animals in Hunan Province, and specializes in breeding animals from outside of Asia, both wild and tamed. It does have a number of native species, including Yunnan Leopard and Jinsi Monkeys. Changsha zoo has an extensive collection of monkeys. The Jinsi monkeys enjoy climbing and playing in a large natural display area. There are several Siberian tigers on display as well. And of course the king watches quietly.
The zoo displays some great animal shows throughout the day. The travellers will be lucky enough to catch this great exotic bird show. In one act, someone in the audience calls out a number and the bird has to find the number on a tag. In another hilarious act, the birds are only interested in grabbing the biggest bills from the audience.
Peak Season Opening Times:
07:30 - 18:00
Off Season Opening Times:
08:00 - 17:30
Ticket Price:
CNY20
Bus:
No. 113, 131, 303, 704