Attration Category
Changsha Weather


77F ~ 97F
Cloudy
NW at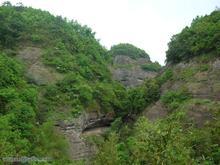 Langshan Mountain is one of China's National Geological Park famous for its unique Danxia landform. It is located in Xinning county,about 500 Km2 away from Changsha, capital of Hunan province. In the south Langshan Mountain is connected with Guilin, in the north it echoes Zhangjiajie.
Covering an area of 108 square kilometres, Langshan Mountain has rich natural scenery and abundant tourism resources. There are more than 60 scenic spots in Langshan Mountain. Among which the most famous are Tianyi Lane, Chili Peak, Zixia Cave,Fuyi River, Innate Bridge, Bajiao Stronghold,Emperor Xun Forest Park and Xicun Ancient Dwelling.
Experts from the International Union for Conservation of Nature (IUCN) will start reviewing danxia landform Sunday in southwest China's Guizhou Province which is applying to be included in the World Natural Heritage in 2010.
Danxia, which means "rosy cloud", is a special landform formed from reddish sandstone that has been eroded over time into a series of mountains surrounded by curvaceous cliffs and many unusual rock formations.

Hours:7:00-18:00
Admission:CNY 50

Transportation:
There are long-distance buses to Shimen County in Changsha Western Station, which starts at 8:50,9:20, 10:30, 12:50 ,14:20,15:00 15:30,20:00 or 22:20. There are trains going to Shimen county at the Changsha Railway Station.The detailed information is listed in the table below.