Attration Category
Wuxi Weather


28F ~ 46F
Sunny
N at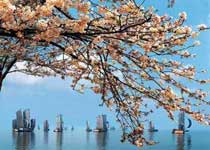 Founded in 1918 Yuantouzhu Park, Han Young was the West national capitalists private garden, called "the first attraction in Wuxi." Changchun Bridge, Cheng Lan Tang, Fei Ge, Jinsong Building, Light Temple, Tao Zhu and other garden buildings dotted Court, Lake fairy islands, sea turtle Nagisa Chuntao, million Langjuan snow, deer top Ying hui, show hidden charge Hill other area unique.
Sea turtle sea turtle Nagisa Nagisa Chuntao lighthouse next to a high of more than 2 meters of the King were stone, engraved front of the main stone "Yuantouzhu" the three characters, the dynasty of the book between the Wuxi lifts Qindui Shi. The stone on the back of the "Turtle Nagisa Chuntao" for the last champion of the history written by Liu Chunlin, was destroyed"Ten years of chaos," carved in stone after the meeting. For waves sea turtle is a major feature here, in case they Fengherinuan, slow waves are clear and fluent; case of wind gusts, and then bang and alarms, like full steam ahead.
Conceiving Wuyue Gong Yuan in 1891, Wuxi to a rather literary temperament ranking official named Liu Lun, Qiu Jin';s breaking of the primary nest write good character. He was too lake Yuantouzhu the cliffs, in the gloomy record of the mysterious rock in Taihu Lake, wrote "Conceiving of Wu and Yue", describe.
Guang Temple in the "Turtle Nagisa Chuntao" and "million Langjuan Snow" at the junction of Forest Hill facing the lake, sitting NorthSouth. Southern Liang, the yuantouzhu Kwong Fuk built after the Temple Mount, the temple of high forest, assumed a Feixing. Completed in autumn 1925. Take "all the people with the Denver wide earth to cave heavens," meaning, the name "Canton Temple."
User zl7807 provide pictures thanks
Yuantouzhu is southwest of Taihu Lake in Wuxi, a peninsula shaped like Yuantou is a great place to watch the Lake Enpa. There is still preserved many ancient Wu and Yue historical relics, and historical figures of the legend of Yue. There are the famous cliffs along the lake, "Conceiving of Wu and Yue" Inscription.
Yuantouzhu resort island (Wuxi Pacific nursing home workers) in the western suburbs of Wuxi Taihu Yuantouzhu Scenic Area "in the calf Hill" on the island, surrounded by water, the original family of four';s house proud "Little Penglai Hill."
Bus
Transportation
Wuxi Railway Station East Square, take the travel and tourismBus:
K1 (full 2 million, 13 km away, driving 30 to 40 minutes), via Li Yuan, to reach the terminal charge Yuantouzhu scenic mountain gate.
K87 via Xihui Park, the terminus to reach the door Yuantouzhu scenic mountain calf.
Zijia
& Nbsp; Shanghai-Nanjing Expressway, Wuxi Taihu Lake Boulevard East exit turn left to the Li River Road, turn left on Po Po industry sector Double Rainbow Bridge turn right over the bridge Bao border gate Yuantouzhu scenic mountain charging.
High-speed exit Wuxi tin to the West Coast Road, turn left to Sheng Qian Rong elevated to the right lintel Lake Bridge turn left to the Bohai Sea Island is scenic Yuantouzhu calf Hill gate.
Wuxi Airport Airport Road 312 State Road, Long Road, turn right high high end of the road turn right onto Long Bridge turn left to treasure sectorYuantouzhu scenic mountain gate charge.
Lake Fisherman';s Wharf

1, high-speed boat tour of two islands: along the way can quickly browse Yuantouzhu, yuantouzhu resort island, Lake fairy islands, takes about 10 minutes.
2, Yu Zhou water Highlight Tour: via Lake Fisherman';s Wharf - Yuantouzhu - Lighthouse - Turtle For Chuntao - Conceiving Wu Yue - Wana Bridge - FishingOne terminal for about 40 minutes.
3, seven masts of ancient sailing water Highlight Tour: via Lake Fisherman';s Wharf - Yuantouzhu - Lighthouse - Turtle For Chuntao - Conceiving Wu Yue - Wana Bridge - Fisherman';s Wharf for about 40 minutes.
Boat pier

50 meters apart and the cruise ship terminal, providing yuantouzhu to Lake Xiandao, yuantouzhu getaways, eighteen BayBeauty tours and other services. 7 person boat, 25 NPC boats, water boats and other models of BMW. Free of charge for children under -1.1 m \\ 1.1-1.4 m half-price ticket \\ 1.4 meters on the block (charter scenic tour that day when the votes are required to be used)
Scenic sightseeing tour
Starting from the gate charge Hill, channels calf Hill gate terminal for the yuantouzhu arch. Visitors take a tour ticket for free. Door to a calf HillMouth 87 bus departure station, filling the exit door has a mountain bus station of origin.
Tickets
7:00-17:30
105. Contains Yuantouzhu tickets, sightseeing tour in scenic Taihu Lake Xiandao tickets to and from Lake Xiandao cruise costs. Free of charge for children under -1.1 m \\ 1.1-1.4 m half-price ticket \\ 1.4 meters on the block. Student ID 50.