Attration Category
Wuxi Weather


28F ~ 46F
Sunny
N at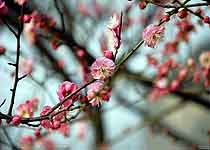 Scenic existing three major scenic spots: the plum plum theme of cultural attractions, there are washing the heart spring, Tianxin Taiwan, Nian-qu tower, chanting Bin Tang, study at, and many of the "Wing';s" humanistic heritage; Garden Exposition set of natural and different styles of landscape as a whole, furnished with a windmill, bridge, coffee shops, churches, etc.; Huaxi scenic floral introduced more than 100 varieties, and has a huge rock regulatory landscape.
History: The Chinese national industry "first family" Rongzong Jing, Rong Desheng Zhong Kun in "for the world cloth Fang Xin," the ambition, in 1912 to purchase building in this park, Forest Hill planting plum, plum decorated with mountains, called "Plum Garden. "
F. Sport offers users pictures thanks
Known to plum is plum long enjoyed the reputation of the southern resort. 7 km in the western suburbs of Wuxi, facing Lake hills, and proximity to the Longshan Jiufeng, red capitalists Rong liberation was a private garden.
Traffic
2,88,91,206 Road bus, sightseeing bus up.
Tickets
6:00-18:00
35 per season (January 1 to May 20 during the Plum Blossom Festival), 30 per season, free for children under 1.4 meters, 70 certificate free of charge over the age of 70 years old 60-certificate for half price.